November 12, 2022: After over 48 hours of voting and 1,661 votes cast, the CUPE 3912 membership has voted to ratify the Tentative Agreement recommended by the Negotiating Committee.
As of Monday, November 14th, we are back to work. The Dalhousie Administration has agreed that contacts for PTAs and TAs will remain unaffected and the full salary will be paid. Markers/Demonstrators will be paid for hours worked. All contracts this term will be paid at the rate indicated in the now ratified Tentative Agreement.
As a result of our hard work and conviction, we earned a collective agreement that grows base PTA wages 23.3%, TA wages 23.1%, and Mark/Demo wages 44.5%. The difference between Mark/Demo wages and TA wages has shrunk from 32% to 20% weakening the Mark/Demo loophole. Lastly, everyone who worked in the last 2 years has earned some back pay to compensate for the pay freeze. It is possible that Dalhousie's payroll may take a month or two to implement the new rates. We will be pushing them to make sure everyone is paid what they're owed.
However, this vote does not mean we are done. There are several goals that we did not achieve in this round of bargaining. The next two years leading up to the end of this contract are more important than ever. If we want to remove the Marker/Demonstrator position, we will need more evidence and more voices to present at bargaining next time. 
We, as a union, are stronger than ever and it's up to us to spend the next two years solidifying that position so we can get even more next time.
Thank you all for your amazing work. We could not have achieved what we did without you.
November 9, 2022: We are pleased to announce that we now have a tentative deal with Dalhousie's Administration. This tentative agreement must still be ratified by the membership in order for it to be signed and for the strike to end. The link to vote has been sent by email from Simply Voting. If you have not received an email to vote please first check your spam folder and then email voting@cupe3912.ca.
Voting will be open until 11:55 PM (23:55) Friday, November 11th. 
Picketing (and strike pay) will continue until a tentative agreement is ratified.
In sum, the deal remains largely the same as the Dalhousie Administration's previous offer with an additional raise for Marker/Demonstrators. We have also established a draft Return to Work plan that currently includes no loss of income for the period of the strike.
The 3 Documents of the Tentative Agreement:
The Changes to the Agreement includes changes that will be made to the previous Collective Agreement (2016-2020) to form the new Collective Agreement (2020-2024).
The Memorandum of the Agreement includes information regarding how the new Collective Agreement (2020-2024) will be formed (as described above) as well as how retroactive pay (additional pay for work performed from September 2020 – present) will be administered.
The Return to Work Agreement details the procedure for how the strike will end. This includes no loss of pay for TAs and PTAs for the duration of the strike. Markers/Demonstrators will continue to be paid for all hours worked.
Calculated Yearly Pay:
All years are academic years beginning Sept. 1st.
Teaching Assistants:
| | | | |
| --- | --- | --- | --- |
| 2020-2021 | 2021-2022 | 2022-2023 | 2023-2024 |
| $24.72 | $25.02 | $28.61 | $30.05 |
Markers/Demonstrators:
| | | | |
| --- | --- | --- | --- |
| 2020-2021 | 2021-2022 | 2022-2023 | 2023-2024 |
| $16.82 | $17.03 | $23.52 | $24.00 |
Part-Time Academics:
# of courses
2020-2021
2021-2022
# of courses
2022-2023
2023-2024

0-7

8-19

20+ 

$10,594.80

$12,133.80

$12,881.03

$10,727.24

$12,285.47

$13,042.04

0-13

14+

$12702.20

$14154.30

$12956.25

$14437.38
PTA salaries are for a 6-credit, 8-month "full course." 
PTA salaries are categorized by the number of previously taught 3-credit, 4-month "half-courses."
Clinical and Fountain School of Performing Arts Instructors:
Role
2020-2021
2021-2022
2022-2023
2023-2024
Nursing

DH

PT/OT

Pharmacy

FSPA

$34.32

$40.14

$45.22

N/A

$66.00

$45

$40.64

$45.78

N/A

$66.83

$47.90

$43.40

$48.70

$50.00

$70.38

$48.85

$44.27

$49.68

$51.00

$71.79
While the deal is not perfect, the Negotiating Committee is recommending it as the best deal we can acquire for this bargaining period. This recommendation is required to bring the ratification vote to the membership.
November 3, 2022: Thanks to all our work on the picket line and the solidarity of our allies, we have made strides in negotiations. We have had over 6000 people sign our petitions, dozens of other unions have joined us online or in person in solidarity, and over 450 members continue to walk our picket lines. The community, both of Halifax and the students of Dalhousie, have offered us support and that has helped us move forward.
This week in bargaining, Dalhousie's Administration presented an offer that we countered with a proposal that matched the concerns and needs of our membership. In response, Dalhousie's Administration presented a second offer nearly identical to the first. Most of the gains in Dalhousie's Administration's current offer will not take effect until September, 2023. Below is a breakdown of the two offers.
Offer Comparison
Part-Time Academics:
# of courses
2020
2021
# of courses
2022
2023
Our Offer

0-7

8-19

20+

$10,777.92

$12,343.52


$13,103.66

$11,209.04

$12,837.26


$13,627.81

$11,993.67

$13,735.87

$14,581.75

$12,713.29

$14,560.02

$15,456.66

Dal's Offer (Nov. 3)

0-7

8-19

20+ 

$10,594.80

$12,133.80


$12,881.03

$10,727.24

$12,285.47


$13,042.04

0-13


14+

$12,654.05


$14,133.30

$12,907.14


$14,415.96
Though the removal of the first tier is a win for those who have taught 0-7 and 14-19 courses, it leaves behind all other PTAs. They have simply averaged the wages for three tiers into two to try and divide PTAs, pitting them against each other. 
In addition, there is almost no retro pay included for 2020 and 2021. This will result in less retro pay per class taught prior to this year for all PTAs. 
| | | |
| --- | --- | --- |
| Year | 2020 | 2021 |
| Retro Pay Denied (per 6 credits) | $183-$222 | $481-$585 |
Nursing, Dental Hygiene, Physiotherapy/Occupational Therapy, and Fountain School of Performing Arts:
Role
2020
2021
2022
2023
Our Offer
Nursing

DH

PT/OT

FSPA

$34.32

$40.14

$45.22

$66.00

$45

$40.64

$45.78

$66.83

$47.90

$42.89

$48.18

$70.38

$48.85

$43.74

$49.15

$71.79

Dal's Offer (Nov. 3)
Nursing

DH

PT/OT

FSPA

$34.32

$40.14

$45.22

$66.00

$45

$40.64

$45.78

$66.83

$47.90

$43.40

$48.70

$70.38

$48.85

$44.27

$49.68

$71.79
During negotiations, Dalhousie's Administration exceeded our offer for Nursing, DH, PT/OT, and FSPA. We will be happy to match their wages with our next offer.
Pharmacy:
| | | |
| --- | --- | --- |
| | 2022 | 2023 |
| Our Offer | $51.00 | $52.02 |
| Dal's Offer (Nov. 3) | $50.00 | $51.00 |
Between Wednesday and Thursday, Dalhousie's Administration lowered their offer for Pharmacy, seemingly moving the money into other sections rather than raising the wage unilaterally. We retained the higher wage in our offer.
Teaching Assistants:
| | | | | |
| --- | --- | --- | --- | --- |
| | 2020 | 2021 | 2022 | 2023 |
| Our Offer | $25.63 | $27.17 | $30.97 | $32.52 |
| Dal's Offer | $24.72 | $25.02 | $28.61 | $30.05 |
Though Dalhousie's Administration improved their offer this round, their maximum offer still does not reach the minimum our members requested in surveys, Q&As, and during bargaining meetings nor does it meet parity with the U15.
Markers/Demonstrators:
| | | | | |
| --- | --- | --- | --- | --- |
| | 2020 | 2021 | 2022 | 2023 |
| Our Offer | N/A | N/A | N/A | N/A |
| Dal's Offer | $16.82 | $17.03 | $22.43 | $23.55 |
Our offer was to remove the Marker/Demonstrator roles entirely to prevent the exploitation in these roles, which currently allows for responsibilities traditionally performed by TAs to be completed for 32% less an hour. The wages for Marker/Demonstrators need to be tied to TA wages so that the opportunity for exploitation is removed.
What Happens Next?
Special Membership Meeting – November 8th at 6:30 p.m.

:
Leading up to the strike, we based our negotiation strategy and proposals on the responses of our membership to our surveys, discussions on the picket line, and online Q&As. 
Now that we are three weeks into the strike and have completed the most recent rounds of bargaining, we will be holding a Special Membership Meeting (SMM) on Tuesday, November 8th at 6:30 p.m. in DSU Council Chambers (second floor of the SUB) to gauge current membership opinions and concerns on picketing and the bargaining process.
Survey

:
We are currently developing a survey to gather electronic responses from our membership regarding how bargaining is currently going and how they want to proceed. This survey will be made available following the SMM on Tuesday.
Dalhousie has spent considerable resources trying to divide us and undercut our efforts. This shows that our actions are effective. Every meeting we have with the Dalhousie Negotiating Committee earns us more. While some members of our union may have reached what they wanted, we continue to push for those who have not. The meeting and the survey next week are your opportunity to have your voice heard again. 
Dalhousie works because we do.
November 2, 2022: Thanks to your amazing efforts on the picket line, the Dalhousie administration asked us to return to the bargaining table after previously walking out on October 18, 2022. This morning, we attended another round of bargaining and wanted to provide a brief update before we go back to the bargaining table tomorrow.
Thanks to all of our hard work, Dalhousie's administration has offered us raises that bring us closer to our U15 counterparts. However, the administration's offer of $30.05/hour for TAs by 2023 is still below our minimum acceptable TA wage determined by the membership surveys we all filled out. Most importantly, the administration refused to acknowledge the abuse of the Marker/Demonstrator position, which has been used to give TAs 32% pay cuts for doing the same work. All TAs are at risk from this loophole so this artificial distinction must be removed.
In comparison, we presented an offer that would bring the 2023 base PTA salary to $12,713.29/full course (6 credit hours), the 2023 TA wage to $32.52/hour, and the integration of the Marker/Demonstrator position into TAs. This would cost the university $1.9 million of their $67.4 million annual surplus (2021-2022 Dalhousie Annual Financial Report, p. 30) to meet this proposal. We will provide a more detailed update on our website after our bargaining meeting tomorrow.
Your hard work and show of support on the picket line got us here, showing us that we cannot settle for less than we deserve.
We will continue to fight for a better deal.
October 27, 2022: On October 24th, the employer proposed that interest arbitration be applied to only four out of many the items in the proposed collective agreement.
On the morning of October 25th, the Negotiating Committee met and told Dalhousie administration that this approach would be premature, but that they are welcome to sit back down at the negotiating table.
On October 27th, while signing Strike Pay cheques, Dalhousie administration proposed that we continue negotiations on Wednesday, November 2nd and we agreed.
The strike began on October 19th, and since then we've gotten a clear message from our members. Parity with our peers and parity between M/Ds and TAs is important for all our members.
The efforts of our members and allies are making a difference.
October 18, 2022: The Dalhousie Administration has walked away from the negotiating table despite our best efforts to secure you a fair deal, refusing our final proposal to bring your wages at least halfway to parity with our peers at comparable research universities (U15).
As it stands, the Employer will not be offering us any more deals.
What's happening now?
The strike begins October 19th, 2022 at 00:01. In order to show our resolution, we ask that all CUPE 3912 members show up at McCain between 8 a.m.- 4 p.m. for the rest of the week and earn up to $180 tax free. Sign-in will take place in the green space between McCain and the SUB under the tent.
If you signed up for strike duties, that schedule will begin next week. If you haven't signed up yet, sign up here.
All CUPE 3912 c3lasses will be cancelled for the length of the strike. You may lose access to Brightspace, your Dalhousie email and OneDrive access.
To compensate for the loss of income experienced during a strike, we will have strike duties that pay up to $1,200/month tax free.
If you need accommodations, mention those within the form so we can assign duties that play to your strengths. To inquire about remote possibilities if you are not physically present in Halifax/Truro, please contact DalRemoteDuties@cupe3912.ca
What was rejected by the Dalhousie Administration?
We proposed a cumulative wage increase for 2020-2024 in addition to the elimination of the Marker/Demonstrator designation to prevent duty creep.
Part Time Academics (broken down by tier)
2020

2021

2022

2023

Total

+3%
+4%
+5%
+4.5%
= 17.54%
$10,777.92
$12,343.52


$13,103.66

$11, 209.04
$12, 837.26


$13,627.81

$11,769.49
$13,479.12


$14,309.20

$12, 299.12
$14,085.68


$14,953.11
Nursing
| | | | | |
| --- | --- | --- | --- | --- |
| 2020 | 2021 | 2022 | 2023 | Total |
| +1.25% | $45 (reset) | +4.0% | +3.0% | = 35.97% |
DH, PT/OT, FSPA
| | | | | |
| --- | --- | --- | --- | --- |
| 2020 | 2021 | 2022 | 2023 | Total |
| +1.25% | +1.25% | +4.0% | +3.0% | = 9.81% |
Pharmacy
| | | | | |
| --- | --- | --- | --- | --- |
| 2020 | 2021 | 2022 | 2023 | Total |
| N/A | N/A | $50 (new) | +3.0% | = $51.50 |
Teaching Assistants
| | | | | |
| --- | --- | --- | --- | --- |
| 2020 | 2021 | 2022 | 2023 | Total |
| +5% | +6% | +10% | +4% | = 27.33% |
| $25.63 | $27.17 | $29.89 | $31.08 | |
In addition to wage increases and the removal of Marker/Demonstrators, we demanded that TAs be given notices that they will be teaching within one week of course commencement and Duty Forms within two weeks of course commencement.
These requests were soundly rejected by Dalhousie's Negotiating Team after which they refused to meet with us again.
What did the Dalhousie Administration offer?
Part Time Academics (broken down by tier)
2020

2021

2022

2023

Total

+1.25%
+1.25%
+3% (+$700 adjustment)
N/A
= 12.28%

= 11.43%

= 11.09%

$10, 594.80

$12, 133.80

$12, 881.03

$10, 727.24

$12, 285.47

$13, 042.04

$11, 749.05

$13, 354.04

$14, 133.30
Nursing
| | | | | |
| --- | --- | --- | --- | --- |
| 2020 | 2021 | 2022 | 2023 | Total |
| +1.25% | $45 (reset) | +3.0% (+$1 adjustment) | N/A | = 33.65% |
DH, PT/OT, FSPA
2020

2021

2022

2023

Total

+1.25%
+1.25%
+3.0% (+$1 adjustment)
N/A
= 8.19%

= 7.90%

= 7.17%
Pharmacy
| | | | | |
| --- | --- | --- | --- | --- |
| 2020 | 2021 | 2022 | 2023 | Total |
| N/A | N/A | $50 (new) | N/A | = $50 |
Teaching Assistants
| | | | | |
| --- | --- | --- | --- | --- |
| 2020 | 2021 | 2022 | 2023 | Total |
| +1.25% | +1.25% | +3% (+$2.75 adjustment) | N/A | = 17.69% |
| $24.72 | $25.02 | $28.61 | | |
Markers/Demonstrators
| | | | | |
| --- | --- | --- | --- | --- |
| 2020 | 2021 | 2022 | 2023 | Total |
| +1.25% | +1.25% | +3% (+$4 adjustment) | N/A | = 30.40% |
| $16.82 | $17.03 | $21.66 | | |
The Employer sent an offer for three years despite the standard being four years and did not meet even half of our offer. They also refused to eliminate the Marker/Demonstrator designation or regulate Duty Forms.
We deserve more. We deserve a fair wage comparable to our U15 counterparts. It's up to us to show the Employer we won't settle for less than we deserve.
We need you to be outside the McCain Building at 8 am (rain or shine) to fight alongside your colleagues for a liveable wage! It's time your voice is heard! After two years of negotiation, enough is enough.
If you stay silent now, you are telling the Employer that this is okay.
October 6, 2022: On September 29, 2022, the administration of Dalhousie refused to schedule further dates for negotiations, stating that their current offer is their last one. Upon hearing that we are ready to strike, they offered two new dates which the Negotiating Committee is willing to attend in order to get us the best possible deal.
As of now, the Employer has offered us no non-financial considerations and continues to offer raises that do not even come close to covering the cost of inflation. There has been no meaningful increase in their offers since June 2022. We therefore believe their future offers, without a strike, are likely to stay the same.
Because of this likelihood, we are ready and willing to strike as of October 19, 2022.
What is the Employer offering?
Part-Time Instructors:
| | | | |
| --- | --- | --- | --- |
| 2020 | 2021 | 2022 | 2023 |
| +1.25 | +1.25% | +3% | +2% |
| +0 | +0 | +$350 (adjustment) | +0 |
Nursing:
| | | | |
| --- | --- | --- | --- |
| 2020 | 2021 | 2022 | 2023 |
| +1.25 | $45 (reset) | +3% | +2% |
DH, PT/OT,  and FSPA:
| | | | |
| --- | --- | --- | --- |
| 2020 | 2021 | 2022 | 2023 |
| +1.25 | +1.25% | +3% | +2% |
Pharmacy:
| | | | |
| --- | --- | --- | --- |
| 2020 | 2021 | 2022 | 2023 |
| N/A | N/A | $50 (new) | +2% |
Teaching Assistants:
| | | | |
| --- | --- | --- | --- |
| 2020 | 2021 | 2022 | 2023 |
| +1.25 | +1.25% | +3.5% | +2% |
Markers/Demonstrators: 
| | | | |
| --- | --- | --- | --- |
| 2020 | 2021 | 2022 | 2023 |
| +1.25 | +1.25% | +8% | +2% |
What does this mean?
Put into simpler terms, the Employer offered:
Part-time Instructors 11.11%, 10.68%, or 10.51% depending on their tier.
Nursing, DH, Pt/OT, FSPA and Pharmacy 7.7% (after wage reset)
Teaching Assistants 8.23%.
Markers and Demonstrators 12.93%.
While this is an improvement from the offer previously rejected by the membership, it does represent a 5-12% decrease in buying power by August 2024.
No offer will cover the cost of living in Halifax.
Between September 2019 (our last raise) and August 2024, cumulative inflation is predicted to be 19-23% in Nova Scotia,  but the Employer refuses to take that into consideration when making their offers. The President of Dalhousie, however, was given a 13% raise in 2021 to cover the rise in cost of living.
We are fighting for the same consideration, but the Employer has made it clear that it will not happen without a strike.
How will a strike work?
If we go on strike, all duties covered by your CUPE 3912 contract will stop. This means lectures, tutorials, meeting with students, and marking will not be done during the duration of the strike. Dalhousie will not pay you until the strike ends and work is resumed. The process of returning to work will be included in final negotiations and shared with the membership accordingly.
During the strike, we will be picketing at predetermined locations to be released the day of the strike. Each picket line, made up of members and supporters, will be led by a trained Picket Captain who will handle coordination, media interactions, and medical emergencies. To volunteer as a Picket Captain and receive free First Aid training, fill out this form. We encourage people who want to help without the responsibility of being a Picket Captain to join us on the picket line.
Strike duties, such as picketing, are paid by CUPE 3912. Members can volunteer up to 20 hours a week, earning up to $1,200/month tax free. To receive strike pay, you must sign this form and drop it off with a CUPE 3912 representative or at the Dalhousie Student Union Building Information Desk. If this is not completed before the strike, your strike pay could be delayed a week while the form is processed.
The Employer can, and likely will, lock CUPE 3912 members out of all Dalhousie systems whether you are participating or not. A lockout means you will lose access to your Dalhousie email. To ensure we can still contact you and provide updates, please provide a non-Dalhousie email we can use.
Can striking affect employment or student status?
Dalhouse cannot punish you for participating in or supporting the strike. There are legal protections in place to ensure that no employee is fired or refused work due to supporting a union or strike (see Strike FAQ). If you suspect you are being targeted for union involvement, please file a grievance with CUPE 3912. Punishment for union activity is illegal whether you are a Canadian citizen, permanent resident, refugee, or international student.
As a student, your status will not change regardless of whether or not you actively participate. Anything linked to your student status, such as visas or loans, will not be affected. You cannot be academically penalized for participating in the strike or refusing to cross the picket line. Your supervisor cannot force you to work during the strike nor can they promise you will be paid.
September 22, 2022: After July 27, the CUPE 3912 – Dalhousie Bargaining Team changed. A current list of members and roles is available here.
On August 5th, at a Special Membership Meeting, the CUPE 3912 – Dalhousie Strike Committee was voted into existence. The Committee, with its four subcommittees, was delegated the responsibility to lead the planning, preparing, and executing a Strike, if necessary, and formally called.
The Dalhousie Strike Committee members have organized a series of Strike Avert activities. The CUPE 3912 website has some information on these. The next event is September 23 at the Grawood (please RSVP).
A vote from the full CUPE 3912 Executive, as per the March 2022 mandate from members, plus a timely formal notice to the Employer, can start a legal strike. No strike will happen unless the Dalhousie Strike Committee also supports starting a strike. They are announcing that they are prepared to start strike activities by October 19th, if a strike is called.
The Strike Aversion activities by the Dalhousie Strike Committee and others, can help to avert a strike, in part by demonstrating and improving our skill sets and capacity to organize activities.
September 20th was our first formal bargaining meeting with the employer since July 26th. There are three additional meetings scheduled for September 2022.
Details of the Union's July 26th financial proposal are presented on the July 27th update below. The Employer countered on July 26th with financial proposals that were substantially similar to those in the April 26th package of proposals that were rejected by members in a June 2022 vote.
On September 20th, the Union counter-offered with financial proposals that were similar to July 26th but with different inflation assumptions.
The Union financial proposals are influenced by rates used at other research based universities in Canada – the U15 group. The employer used a U15 comparison recently with respect to determining the pay rate for the university President who received a 13% raise this year. However, the employer does not base their financial proposals on U15 rates for Part-Time Instructors, Teaching Assistants, Markers and Demonstrators.
The Union financial proposals for the Marker and Demonstrator hourly rate is also influenced by examples of a past position or job description that was paid at the Teaching Assistant hourly rate, is now being paid at a Marker/Demonstrator hourly rate. These positions can be held by the same individual providing the same or similar duties or services, but at a reduced hourly rate. One way to address this is to have parity in the Teaching Assistant and Marker/Demonstrator hourly rates.
There may be other ways to address this circumstance that involve non-monetary measures.
More conversations, bargaining, and exchanging of proposals is expected to continue on Friday September 23rd.
July 27, 2022: After the vast majority of Dal CUPE 3912 members who voted rejected the tentative agreement, the negotiating committee met the employer yesterday to discuss the three main concerns that affected the membership:
Salary adjustment for wage parity
Salary increases to cover inflation
Equal pay for markers and demonstrators as for TAs
We proposed the following annual wage increase rates based on averaged pay of U15 universities and yearly inflation:

What do these numbers mean?
To better understand these numbers, we have divided them in two sections: parity and inflation. Parity, shows the wage increase required for each group to attain parity by 2023, with the largest increase in 2022. Inflation shows the increase required to keep our purchasing power for the given contract period. Total does not add up as these are compounded.
In dollar figures, it means we asked for: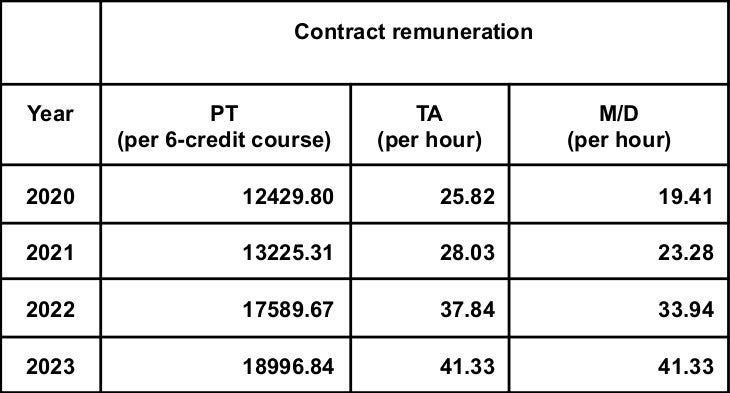 We are asking for an increase (listed under total) in wages for every year starting 2020, as the wages have been unchanged since then. Starting September 2022, our proposal would bring TAs/markers/demonstrators in proximity to the average U15 wage for TAs in 2021-2022 which was $35.90.
Counter Offer from the Employer
The employer's counter offer would give TAs a $200 bonus (an increase from $150 in the tentative agreement to make up for the last two years of zero wage increase) and a new bonus of $100 for other employees payable in 2022. The employer also proposed a shorter, 3 year contract from 2020-2023. No other wage increases were offered.
Dalhousie University boasts a Third Century Promise that will increase the school's global academic and research competitiveness, diversity and equity, and forge new future leaders. We believe Dalhousie University should honour their promises and offer competitive wages to the world-class TAs, markers/demonstrators and PTAs who work extremely hard to accomplish these goals.
Strike Preparations
We will be reaching out again with details on how you can be part of the strike team and help with strike preparations.
In order to persevere with our negotiations, we are counting on YOUR support. Please talk to your friends, colleagues and every Dal CUPE member you know about how important it is for YOU and our members to be compensated fairly. We are only as strong as we are united!
June 25, 2022: The tentative agreement at Dalhousie was not ratified; the majority of voters decided to reject the tentative agreement. We will ask the employer to go back to bargaining and conciliation to reach a better deal.
April 27, 2022: On April 26 2022, at conciliation we reached a tentative agreement with the Dalhousie's bargaining team. We will bring the tentative agreement to ratification, which means we will ask members at Dalhousie on whether or not they approve.
Details will follow on the process and timing of meetings and voting for ratification.
April 25, 2022: Tuesday, April 26, we have all-day conciliation at Dal. We'll see if the employer has anything else to bring to the table.
As mentioned at the AGM, planning our strategy for a possible strike or other job action is ongoing and dynamic. One of the first steps for strike planning is recruiting volunteers, so please contact Dave if you are interested.
April 2, 2022:  We just finished two days of conciliation for Dalhousie. Although we did some more work on language, we are still really far apart on financial proposals so we have reached an impasse. The conciliator will file his report on April 12 and we have another day of conciliation scheduled for April 26 to try to reach a last-minute deal before we will be able to call a strike.
February 23, 2022: The Employer and Bargaining Committee have agreed to conciliation dates on March 31 and April 1.
February 16, 2022: A conciliator has been assigned and we are waiting for dates.
January 31, 2022: Last week we squeezed in a short bargaining session at Dal. We exchanged another round of financial proposals but agreed we were still far apart so we are filing for conciliation to begin February 16.
The employer claims that their expenses keep increasing so that they can't pay us more – what about our expenses? Now we need to be paid more not only to be on par with almost all other PT faculty and most TAs in Canada but also just to keep up with increase in the cost of living.
Finally they claim to be passionate about EDIA and yet cannot oblige our request for marginal increase for our members, many of whom come from marginalized groups.
January 10, 2022: This past week we tabled our financial proposals at Dalhousie.
Our discussions followed the common steps of us explaining that we deserve a lot more money because other PTers at Canadian universities get a lot more money, and them replying that we don't have a lot to give you and we don't need to anyway because other PTers in Halifax (i.e., at SMU and the Mount) get the same. This time we intend to break this cycle of the three universities using the others as comparators to justify our low wages.
We also had an excellent presentation by Fallen, VP for TAs and Markers at Studley, who explained how a substantial wage adjustment would help marginalized groups, something Dalhousie has repeatedly promised to do.
If the employer(s) continue to deny us fair wages despite our efforts, WE NEED YOUR HELP if we are to gain any substantial increase in stipends! Please look out for further information, follow our campaign and attend future meetings (tbd). Wage Parity NOW!
December 20, 2021: We had bargaining days at Dal last week. We finished most of the discussion on non-financial items with the employer; however, we have reached an impasses for some of these items so they remain unresolved. We will table financial proposals at our next meeting on Jan. 7.
November 5, 2021: We do not have bargaining dates until late November. We know that bargaining is taking a long time. There are several reasons for this:
We are bargaining with three employers at the same time. Although last time we finished earlier at one university, we signed the collective agreement at the third university almost three years after the previous one expired.
We have a lot of proposals because there are a lot of changes to be made to the collective agreement to achieve fair working conditions. It takes time to discuss these proposals and we are making progress.
It is difficult to schedule times when 7-11 people are available. The schedule of our CUPE representative is particularly busy as whoever is in this position also assists other locals and is at other bargaining tables as well. Also note that we (union bargaining team) do not get time off for bargaining, as may be the case for other bargaining teams. However, we are setting several dates at all universities in the next few months hoping to wrap up soon. Also note that we are continually working on bargaining with extra meetings for the individual teams and all teams together.
October 27, 2021: Last week we had a day and a half of bargaining at Dalhousie. We discussed a lot of proposals including our common proposals, TA-specific proposals and a proposal to update hiring processes towards continuing appointments similar to the one we proposed at SMU. As at SMU, it looks like we are coming to an agreement for several proposals but are still negotiating some of the wording.
Our CUPE rep is not available most of November so our next dates at all three universities are in late November or December. We are booking dates well into January so we can make sure to reserve as much time as possible for bargaining.
October 19, 2021: Yesterday evening the Dal bargaining team met before resuming our negotiations at the table this week.
Our CUPE rep is not available most of November so our next dates at all three universities are in late November or December. We are booking dates well into January so we can make sure to reserve as much time as possible for bargaining.
September 24, 2021: There has been break from bargaining this month. Bargaining will resume in October.
September 2, 2021: Our new CUPE rep, Mike Kelly, will be quite busy with his new assignment in September so our next bargaining dates are in October.
We are expecting counter proposal from Dal, where we are still working through TA proposals. At Dal we are discussing the ROE (record of employment). It seems that the number of hours determined for ROE purposes at Dal is only half of what it is at the Mount, but the determined number of hours is even greater at SMU. We are working towards making this similar for our members at all three universities.
August 13, 2021: We had two sessions at Dal this week. While we did make some progress at Dal, we are realizing that scheduling full days of bargaining (hopefully in person) would be more efficient. However, our CUPE rep is very busy in general at multiple bargaining tables but especially in September with several arbitrations including one for us. Therefore, our plan is to schedule full days of bargaining at Dal to make some substantial progress this fall. The bargaining teams have been meeting a lot recently and have focused on finalizing our financial proposals.
July 22, 2021: We are proposing language to strengthen academic freedom articles based on language from the collective agreements of the faculty associations. We are working on language towards continuing appointments such as having courses decided for a year in advance and internal and external posting processes. At Dal we also provided extensive proposals for TAs and markers that address issues of timing, transparency and the use of the duty form. We have our next dates for both Dal and SMU in mid-August.
June 14, 2021: Summer is generally slower as it is more difficult to coordinate schedules. We are also going to have a meeting with all bargaining teams to finalize our financial proposals and with the mobilization committee to continue our strategic planning as we continue negotiations.
This past week we had a bargaining team meeting and a bargaining session for Dal.
June 1, 2021: Things are going relatively well and we are making progress on several items. However, we have yet to table financial proposals, which we hope to do soon. We have two bargaining sessions scheduled next week.
May 17, 2021: We had an all bargaining teams meeting last week. We are working on our financial proposals including costing (estimating how much our proposals will cost the employer). Bargaining seems to be particularly slow these days, partly due to less frequent dates during the spring/summer months and partly due to issues that seem to be unrelated to our actual proposals. We hope things will pick up but the summer is usually a slow time. 

May 3, 2021: We resumed bargaining at Dal last week. We are making progress on Dal-specific issues but have only just started discussing some of our common proposals that focus on equity, stipend and benefits.
April 26, 2021: We resume bargaining later this week at  Dal after an extended break.
April 12, 2021:  Next week the bargaining teams have a CUPE training session on strike planning. The purpose of this is not to prepare for a strike but instead to learn about how to plan for a possible strike.
March 29, 2021: At a session with Dal we had a presentation on the evaluation of instruction and student ratings of instruction from the Centre for Learning and Teaching
March 15, 2021: It seems like a lot of bargaining involves back and forth discussion and proposals, often about specific wording. Sometimes language disagreements might seem trivial, but the difference between something like 'could' or 'shall' can be substantial.
Another aspect of bargaining is the LOU or MOU (letter or memorandum of understanding). Sometimes if both sides want to see progress towards a proposal but don't think it can be accomplished during the current round of bargaining, they set up a LOU/MOU to set up a committee to discuss the issue within a certain time period. The discussion can then lead to changes in the next round of bargaining. We then have to decide if or what we can achieve this round of bargaining and what could go in an LOU/MOU and how it will be followed up.
February 22, 2021:  Much of what we are discussing at the table in the early stages is related to past and ongoing grievances. There are two main sources of ideas for bargaining proposals: priorities of our members, which we get from our survey, and grievances. Proposals related to grievances are usually non-financial and often relate to different interpretations of the collective agreement from the employer and union (this is why they result in grievances). For us this time they are mostly related to discipline and job postings. These issues often seem to be less important to most members, yet by protecting a few members through grievances and changing the language of the collective agreement, we are protecting all members from possible unfair treatment. Progress is slow but it is a challenge to bargain at all three universities at once.
February 17, 2021: We have had a bit of a break from bargaining. The first step in negotiations is to exchange proposals, which we have now done at all three universities. The next step is the long process of asking questions, suggesting counter-proposals and hopefully coming to an agreement on some of these while deciding not to pursue others. We are now at the start of this stage and are just beginning to ask each other questions to clarify proposals. We have tentatively agreed on only a few very minor proposals, most of which involve things like editing. Some of our common proposals such as a major increase in salary, pension and other benefits are financial proposals and come much later in the process, typically after dealing with all non-financial proposals. We do not expect to even start negotiating financial proposals anytime soon. Therefore, the bargaining teams are still doing background research including exploring different options for a pension plan.
February 9, 2021: We had one bargaining session  Dal last week; another at Dal was cancelled partly because of weather.
We continue to discuss various proposals at each university. Bargaining at three universities at the same time gives us a comparative vision of the perspective of the employers. For example, we have common proposals to address equity issues. Our goal is to strengthen languge to protect our members against harassment and discrimination. Notably we want to want to make sure that provincial and university policies are included in the collective agreement wherever possible to inform our members and alert them to details of these policies. One of the employers agrees with us and included even more language outlining various university policies on these issues. Another employer instead proposed to remove the language we have from the collective agreement rather than expand it further. This week we have a break from bargaining but the teams continue to prepare for future bargaining sessions.
February 1, 2021: Last week we had team meetings to prepare for bargaining at Dal this week.  Overall we are still in the early stages of bargaining and have not yet had a response from any of the universities on most of our common proposals.
January 19, 2021: We are making progress but it's slow. We continue to seek improvements in the timeliness of the awarding of TA, Marker and Demonstrator contacts We are pleased that the employer agrees with us on including or referring to policies such as for domestic violence in the collective agreement.
Nov. 30, 2020: At Dalhousie, we had three bargaining sessions on Nov. 23, 26 and 27. Bargaining this past week consisted mostly of asking and answering questions for clarification. We are pleased that the employer is eager to understand our motivation behind our proposals and we are hoping to come to an agreement on several non-monetary issues. The union explained the importance of key issues such as ensuring grad students are not asked to teach or TA extra hours to finish their degrees in a timely manner and making this year's temporary ban on using student evaluations for discipline permanent because they are biased.
Nov. 18, 2020: We started bargaining with Dalhousie administration on Monday. The first session simply involved exchanging proposals so there is not much to report, we had additional sessions on November 23, 26, 26 have another session with Dal next Monday.
Past Bargaining Sessions:
November 3, 2022
November 2, 2022
October 18, 2022
October 17, 2022
September 20, 2022
July 26, 2022 (Conciliation)
April 26, 2022 (Conciliation)
April 1, 2022 (Conciliation)
March 31, 2022 (Conciliation)
January 26, 2022
January 25, 2022
January 7, 2022
December 15, 2021
October 21, 2021
October 20, 2021
August 12, 2021
August 11, 2021
July 20, 2021
June 9, 2021
May 26, 2021
April 30, 1-4, 2021
March 29, 1-4, 2021
March 12, 1-4, 2021
February 4. 2021
January 14, 2021
November 27, 2020
November 26, 2020
November 23, 2020
November 16, 2020