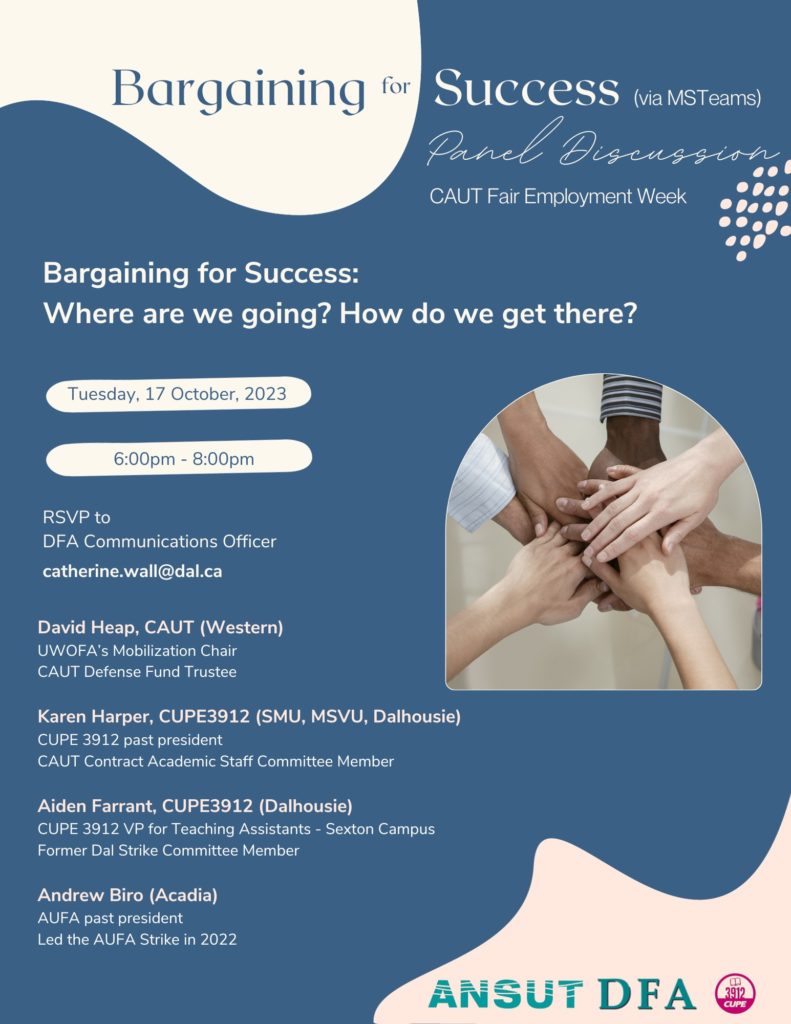 Date: Tuesday, October 17 at 6 pm (virtual only)
Register: RSVP to catherine.wall@dal.ca
Working Title: Bargaining for Success: Where are we going? How do we get there?
Description: Gains at the bargaining table require successful planning and organization. This can be challenging when many of your members are precariously employed, and change as often as the wind.  Whether the goal is wage parity, or introducing benefits for part-time members, many of the organizing tactics are the same. This panel focuses on setting priorities that are important to your members, and working to achieve those goals at the bargaining table, while motivating your members and supporters.
Panelists: 
Karen Harper, (former CUPE 3912 president) will share her experience with the long process for negotiations.
Aiden Farrant, (CUPE 3912 VP for Dalhousie TAs at Sexton Campus and former Dal strike committee member) will talk about the strike, maintaining morale, fixing strike pay issues to ensure members could continue to eat while exercising their rights to collective actions.
David Heap (CAUT Defense Fund Trustee)  will discuss community mobilization in support of contract negotiations OR/CAUT will introduce their new job action and strike planning materials. Link to his recent article on this topic: https://academicmatters.ca/community-mobilization-in-support-of-contract-negotiations-reflections-on-the-process/
Andrew Biro (former president of Acadia University Faculty Association) will reflect on his experience on leading his full and part-time faculty association members through a 4-week strike at Acadia that included gains for part-time and contract academic staff.