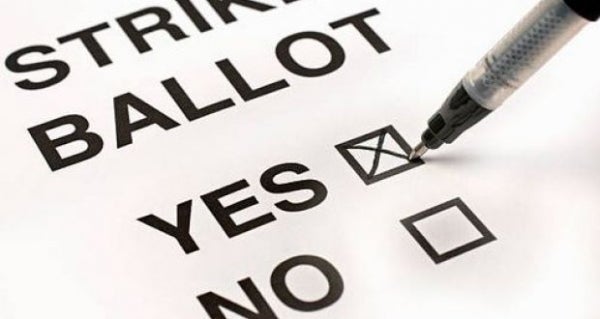 We reached a critical point in bargaining. SMU's Administration refuses to give us even a marginally acceptable deal. Their wage offer (0.5%, 0.75%, 1%, and 1%) does not even keep up with inflation, never mind closing the gap with other undergraduate universities in Atlantic Canada.
Earlier this month, CUPE 3912 members at Dalhousie secured more than 23% wage increase for entry-level part-time instructors over the duration of the 2020-2024 Collective Agreement.
On December 1-2, 2022, we are holding an online strike vote to send SMU's Administration a clear message: CUPE 3912 members at SMU also deserve better wages and more respect. The vote will be by secret ballot. We will be using SimplyVoting, a web-based online voting system for secure voting and certified results. Voting will start at 00:05 on December 1, 2022 and will end at 23:55 on December 2, 2022.
A strong Yes vote will give us a strong bargaining position at conciliation on January 10, 2023. On this date, the Negotiating Committee and the Administration's Team will meet with a conciliator appointed by the NS Labour Board to negotiate a fair deal.
Strike Vote
A strike vote is the process for members to decide whether to authorize the Negotiating Committee to call a strike if SMU's Administration refuses to agree to a fair collective agreement.
Voting Yes is the best way to avoid a strike. A strong Yes vote shows SMU's Administration that we are serious about our demands for fair working conditions, and we are unified and willing to take action to protect our rights, if necessary. For example, last week, Wilfrid Laurier University Faculty Association reached a tentative agreement and averted a strike by securing a strong strike mandate, with 95% of members voting Yes.
Under Nova Scotia legislation, we need more than 50% of the part-time instructors teaching this Fall at SMU to vote Yes to get a strike mandate. Members who do not vote are counted as voting No. Please consider supporting the collective effort by voting Yes even if you are not teaching in the Winter term.
The more members vote Yes on a strike vote, the more likely SMU's Administration is to agree to a fair collective agreement, and the less likely that we actually have to go on strike to protect our rights.
Strike Vote Q&A Sessions
In person (drop-in)
Tuesday, November 29, 2022
4:00 p.m. – 6:00 p.m, SB255 (Sobey Building)
Online
We look forward to seeing you at the upcoming Q&A sessions. In the meantime, please feel free to reach out to us or visit our Strike Vote FAQ.