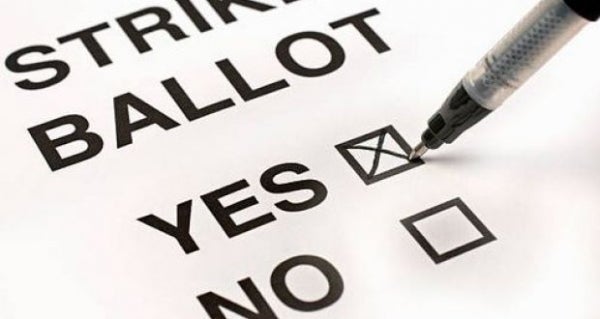 Between December 16-19, 2022, there is a "Mandate to Strike" vote by CUPE 3912 MSVU members with Fall 2022 contracts. This can strengthen our bargaining position for our scheduled January 2023 MSVU conciliation talks.
We'll use the same safe, secure, secret online voting platform that our CUPE 3912 SMU members used in their December 2022 Mandate to Strike vote. Their 91.8% Yes vote supports their team for January 2023 conciliation talks.
Please vote. Under NS labour law a mandate in this case is a majority of members, not just a majority of those voting. Members who do not vote are counted as voting No. Our participation rate in this vote is important.
Mandate to Strike Vote – What does it mean?
A yes vote does not mean we are now on strike. A yes vote means our team can start a strike later on, if necessary.  A yes to a possible strike vote encourages the employer to reach a deal without a strike.
Some frequently asked questions (FAQ) and answers about a CUPE 3912 Mandate to Strike vote are presented here.
Our MSVU employer's May 2022 offer was 1%, 1%, 1.25%, and 1.25%, and that was conditional on not accepting our proposals on performance reviews, Performance Improvement Plans (PIPs), and committees.  We reached an impasse with the employer, and asked the NS Department of Labour to provide a Conciliator to help us overcome this impasse. Those conciliation talks start in January 2023.
Voting Yes is the best way to avoid a strike. A strong Yes vote demonstrates support for our efforts to improve our working conditions, and that we will take action, if necessary. In 2023, our resolve will not be underestimated by this employer. Voting Yes encourages more productive negotiations with the employer, and a new collective agreement, without actually going on strike.
A strike if necessary, but not necessarily a strike.
Your CUPE 3912 – MSVU Negotiating Team